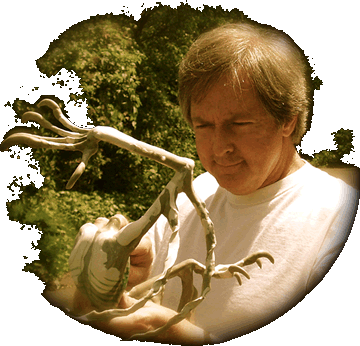 John Dennett
Beginning in the hobby industry in 1982, John found a place as a professional sculptor creating hundreds of original creatures as miniatures for use in Role Playing Games. His work then expanded to the gift, collectibles and toy markets where he's been sculpting and designing characters from a wealth of different genres. The year 2014 now marks 32 years of John's professional career as a commercial sculptor. Though he still produces works based on popular licensed properties for the commercial marketplace, he is now focusing on new and original creations for his personal work in the years ahead. As each new work is completed it will be presented here at Moondevil Studio, John's official website.
Some further background
A great many times in the past I've been asked what influences I had that lead me to becoming a sculptor and why I chose the somewhat unusual subject matter that I do in my personal works. I'll try and keep it brief for now so heres a bit of my past. Almost from the time I could hold a pencil I've been creating unusual creatures. Early exposure to science museums and the amazing world of dinosaurs began a lifelong attraction to all things prehistoric. Around the same time I also discovered the wonderful beasts of mythology with dragons being the most captivating of the menagerie. Fantasy and Science-Fiction along with tales of Horror became a strong interest and not long after, the paranormal appeared in the form of a paperback book titled "Strange World" by Frank Edwards. This stuff was impossible to resist for a kid like me and all the influences began to take root in my artwork. I drew in pencil and began to paint in oils. Being a child of the Fifties and Sixties I was surrounded with an astounding array of everything and anything pop-culture could generate. Television, movies, comic books, cartoons, model kits produced by Aurora, Revell, Hawk, Lindberg etc.and monster magazines like Famous Monsters of Filmland were a steady diet for me back then. My being exposed to it all certainly helped a great deal in making me what I am today. It was fun then and is fun now. Something I wouldn't have expected was to become interested in sculpting as a child. It wasn't influenced in the usual way thru an art class or a trip to an art museum but from a chance attendance at a carnival. It was in the early 1960's and I was at the James E. Straits Shows Circus. Among the attractions there was a sideshow tent where for an extra admission fee you could witness the extraordinary! Here in all their splendor was a giant, a contortionist, a human pin-cushion, a snake handler, a magician and among them all was a native American Indian Chief holding a ball of clay. Music played while the Chief began to change the clay into the head of a horse and then into a dog and a giraffe, a lion, an elephant and several more animals before bowing and leaving the stage. I had just witnessed real magic! When I got home that day I attempted to emulate the same sculpting routine with the box of clay I had. My first attempts were not impressive at all but I would continue my hand at this sporadically over the next few years until I was beginning to catch "the magic". In the years that followed I found no loss of interest in the things I loved in childhood and continued to draw, paint and sculpt these subjects with ever growing intent. Finally my work was being seen at art shows and Science-Fiction conventions and I was beginning to actually sell my art to people who were attracted to my somewhat different subject matter. That was in the 1970's when most of my paintings were hypothetical landscapes on other planets inspired by the Astronomical Art of Chesley Bonestell and also some complete diversions into the realms of pure fantasy. A few years later I sold some of my first miniature sculptures to Grenadier Models and have been sculpting as a profession ever since. That isn't everything, I did say I would be brief here…for now!